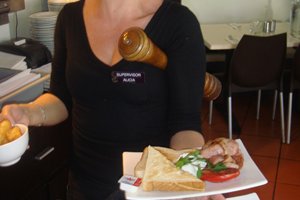 "All happiness depends on a leisurely breakfast," said the American journalist John Gunther. While the author of the "Inside" series may be known as a perceptive and insightful writer, we do all agree that the statement is only partly true. Here in Surfers Paradise, happiness also depends on the warm tropical weather, the fine sand tickling your toes, the sun-kissed waters of the Pacific Ocean.
There is no end to list of ways to be happy at Anacapri Holiday Resort Apartments. Our 2 and 3 bedroom Surfers Paradise apartments will bring you to one of the most vibrant and picturesque beaches in the world. From our Surfers Paradise accommodation, you can bathe in temperate waters or doze off at the beach. Also a short drive away from our self-contained apartments in Surfers Paradise is the Gold Coast Hinterland, a setting of charming wineries and magnificent falls. Of course, we also recommend following Gunther's advice, and starting your Gold Coast adventure with a hearty and leisurely breakfast. For you and your family, here are some of ways to enjoy mouthwatering morning meals near our family apartments in Surfers Paradise:
Pancakes in Paradise
You can take an early morning jog from our cozy accommodation in Surfers Paradise to have breakfast at the 2009 Winner of the Best Specialty Restaurant Award. Breakfast here is a miracle of yummy pancakes. Personal favorites are the "Just Breakfast" set (a plate of two bacon rashers, two fried eggs, two hash browns), the "Canadian" (a stack of buttermilk pancakes, whipped butter, two bacons rashers and a fried egg; you can also have this with grilled banana and pineapple), and "Breakfast with the Works" (two sausages, eggs, bacon, tomato, two hash browns, mushrooms, and toast).
Mandarin Court Chinese Restaurant
Experience an authentic Mandarin-style breakfast. The Mandarin Court Chinese Restaurant at the Gold Coast Highway has one of the most tasty yum cha in Australia. A yum cha is a traditional Chinese meal that involves tea and dimsum. Some of the delectable dimsum in Mandarin Court are steamed prawn dumplings and steamed siu mei dim sims. You can also have steamed Chinese sausage or fluffy omelette with king prawns or crab meat for breakfast after taking a short drive to this restaurant from our family apartments in Surfers Paradise.
Sage Café Restaurant
Just a few minutes away from our Surfers Paradise Accommodation, Broadbeach is known for its trendy gourmet restaurants and shopping malls. The Sage Café Restaurant is one of the most popular destinations among Anacapri guests looking for a delightful breakfast sandwiches. You should drop by and have huge bites of the "Bacon Buddy" (bacon with lettuce, tomato, and bacons pesto mayonnaise between a toasted bagel), the "Open Bagel" (cream cheese, smoked salmon, capers, and Spanish onion), and the "Savoury Beef Mince" (pan-fried beef mince with carrot, onion, celery, and green peas topped Napoli tomato sauce and shaved parmesan cheese). Yum! Click here to visit the website.
Q1 Beach Club
Found near our apartments in Surfers Paradise is one of the most indulgent breakfasts in Australia. Q1 Beach Club offers champagne breakfast by a sparkling swimming pool. Here, you can sip on champagne, fruit juice, coffee, or tea while enjoying pancakes served with fresh blueberries and whipped cream; a big breakfast of poached eggs, grilled bacon, sausage, grilled tomato, hash browns, and toasts, or a light tortilla wrap with bacon, egg, spinach, avocado, tomato salsa, and sour cream. You can even take a dip in the pool before breakfast if you've got time to spare.
Dine in at Anacapri
We also recommend having breakfast in bed or simply at the comfort of your self-contained apartment in Surfers Paradise. Anacapri Holiday Resort Apartments provides a fully equipped kitchen so you easily can rustle up ham and eggs, a barramundi sandwich, tapsilog, or your favorite home-cooked breakfast. You can get fresh foodstuff from the 100 market stalls at the esplanade near our family apartments in Surfers Paradise.
For bookings at Anacapri Holiday Resort Apartments, please click here.
Image Source: www.sagerestaurant.com.au