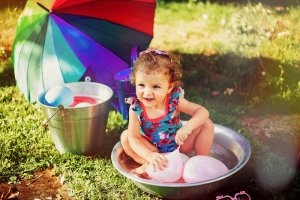 Are you looking for the most spectacular, beautiful, and fun filled spot to enjoy a family getaway this summer? Well look no further than the beautiful southern Queensland coastal city that is the Gold Coast, or the Goldie as the locals refer to it. Nestled in the heart of all of the action is the iconic Surfers Paradise right on the beach, and the perfect spot to make your home away from home on your stay as you explore everything that this popular tourist destination has to offer.
Beach fun for families
The crystal clear turquoise water of the Pacific Ocean is yours to enjoy as you step out onto the fine white sand and dip your toes in the temperate summer water. You can enjoy long walks along the coastline enjoying the sounds of waves crashing, dive on it and body surf or duck under waves and float between sets, build sandcastles and let your imagination go wild with your family as you create your own magical land of mermaids, castles with moats decorated with shells, or tunnels down to the water.
Local attractions on the Gold Coast
Just a short ten to fifteen minute stroll will take you to the very best bars, nightclubs, restaurants, cafes, and exciting attractions such as Ripley's Believe It Or Not Odditorium, the Infinity Attraction, indoor skydiving, Timezone, the Slingshot ride, and King Tutts's putt putt. The subtropical rainforest setting that is the Gold Coast hinterland is just a short day trip out from the coastline, and the best attractions are just a short drive away no matter what you enjoy!

Surfers Paradise is just a quick 25 minute drive from the Gold Coast Airport in Coolangatta, so you won't have to waste any time getting to your ideal budget family holiday accommodation in Surfers Paradise and can make the most of every minute of your stay. You can unwind on arrival with a soak in the spa, a detox session in the sauna, or you can get your blood pumping swimming laps in the pool, hitting the gym, or with a little friendly competition on our full sized tennis court.
Family dining at its best
With fantastic local restaurants such as the Hard Rock Cafe, Pancakes in Paradise, Hogs Breath Cafe, Sushi Train, and so much more the kids will be spoiled for choice when it comes to family dining options. The only problem you will have is deciding which one to choose first! You can also enjoy preparing all of your family favourites in your own full kitchen in your self-contained family apartment.

Check out our affordable accommodation options and book direct here.