Posted in
Local Events
@
Dec 30th 2019 4:10pm
- By Administrator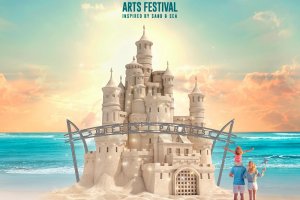 Back again in 2020 for an even bigger, better, and more action packed 17 days of celebrating art, culture, and imagination on the beautiful Surfers Paradise beach! The Sand Safari Arts Festival 2020 is on again from Friday the 14th of February to Sunday the 1st of March.

Everything you love about the previous years, and with even more incredible sand art, entertainment, workshops, art installations, galleries, shows, and interactive experiences for the whole family. Make sure that you've grabbed your Surfers Paradise accommodation well ahead of time, as this fantastic local event attracts thousands of visitors every day and accommodation can book out months in advance!
What is Sand Safari?
If you've never heard of the Sand Safari Arts Festival before then you are in for a treat! Over the 2+ weeks that the festival runs for, you can find larger than life sand sculptures depicting scenes or characters from your favourite fairy tales! Watch as gifted artists create works of art before your very eyes, as over 270 tonnes of sand is transformed into living works of art along the Surfers Paradise Esplanade.

As if that's not enough, there's live music and entertainment, arts and crafts workshops for your to join in, interactive zones, art installations dispersed in the most unlikely of places along the streets of Surfers Paradise, and so much more!

Watch out for sea monsters, there have been huge tentacles spotted climbing Cavill Mall. If you keep your eyes peeled you might catch sight of Jack climbing his Beanstalk, the magical enchanted mirror that belonged to Snow White's evil stepmother, and even a special fairy tale pop-up library with storytelling and all of your favourite fairy tale books!

You can marvel at the fairy tale inspired artworks on display in the special gallery inside Cavill Mall, with works from up and coming artists right through to those that are well known and internationally acclaimed! The artists of the sand sculptures themselves will go head to head to win awards and prizes, including the people's choice award. Make sure you submit your entry for the best sand sculpture by making a gold coin donation.

With so many activities, things to see, and fairy tale experiences to be had, you'll want to make sure you time your 2020 Gold Coast Getaway for the last weeks of February, and experience the incredible joy and wonder of the Sand Safari Arts Festival 2020.
Book Your Surfers Paradise Holiday Accommodation
Check out our family friendly accommodation options near the Sand Safari Arts Festival in Surfers Paradise, and book now for an exciting family holiday on the Gold Coast.