Posted in
Local Events
@
Dec 24th 2012 8:21am
- By Administrator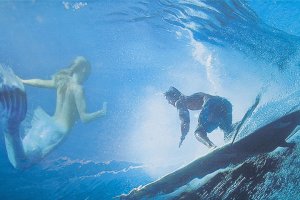 This autumn, the Arts Centre Gold Coast will proudly present the return season of the award- winning stage play, the Surfer and the Mermaid.
The children's drama piece premiered triumphantly at the 2012 Bleach Festival and has recently appeared in a critically acclaimed season at the Sydney's Bondi Pavilion. Inspired by the book by renowned Gold Coast writer Tim Baker and brought to life with the help of surf photographer Ted Grambeau, the play depicts a mystical underwater world in which a young surfer must win the trust of a mermaid and her marine friends before he can return to dry land.
This enchanting tale is sure to win over the hearts of children and adults alike when it comes to the Arts Centre Gold Coast - not far from Anacapri apartment accommodation - from 26 February – 2 March 2013.
To find out more, please visit: http://www.theartscentregc.com.au/