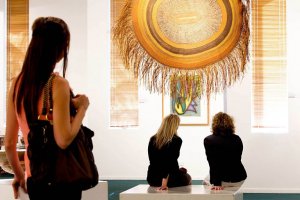 More than the sands and beaches, guests at Anacapri Apartments can indulge in a range of art venues and attractions. The Gold Coast is known for its exquisite art galleries showcasing some of the best artworks in the country. For the creative enthusiasts and simply curious eyes, Surfers Paradise may just be the next best art haven.
Gold Coast City Gallery
A few blocks down from our Gold Coast accommodation, guests can find one of the most well-known regional art galleries in Australia. The Gold Coast City Gallery opens its doors to nearly 500,000 people every month and more than a million visitors each year. The touring schedule lets visitors see and enjoy a number of dynamic and diverse local, national and international expositions. The Gallery seeks to promote high quality expositions and events to encourage art appreciation and visual arts involvement within the area and among tourists.
The Arts Centre Gold Coast
(Image inset) The Arts Centre Gold Coast is only a few minutes' walk away from Anacapri Apartment Accommodation. The gallery is the premier cultural facility in this part of Australia delivering high quality performing and visual arts to the people and visitors of South East Queensland. The Arts Centre structure also houses other art-related attractions including the Arts Café, Gold Coast City Gallery and two Cinemas. Whether guests are up for some good stage production or quality entertainment and exhibitions, The Arts Centre Gold Coast is the must-see site in this part of town.
Sue Ellen Gallery and Antiques
From decorative arts, characteristic European antiques and stunning jewelry, Sue Ellen Gallery is the leading art boutique. The Gallery specifically showcases finely crafted pieces from some world renowned artists, artisans, jewelers as well as their local counterparts. Located within the chic Marina Mirage shopping hub, visitors can also dine and enjoy shopping around.
The Gold Coast is the ideal destination for art aficionados.
For bookings at Anacapri Holiday Resort Apartments, please click here.
Image Source: The Arts Centre Gold Coast - www.theartscentregc.com.au