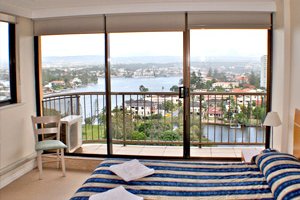 When we see uniform-clad teenagers every November strolling on the fine sands near our self contained apartments in Surfers Paradise, we are taken back to the time when left behind classrooms to frolic with friends on the Gold Coast. It does seem only like yesterday when we took part in the exhilaration and merriment of Schoolies Week.
Schoolies Week in Surfers Paradise this year promises to be as enjoyable as the festival of our times. As we all know, the Gold Coast is the historic birthplace of Schoolies Week. The traditional holiday for graduates sprung up in Broadbeach back in the 70s. Around 35,000 school leavers are expected to take the next flight to the Gold Coast this year, and celebrate their graduation at clubs and beaches of Surfers Paradise. In 2008, nearly 45,000 people joined the festivities in Cavill alone, and more than of these people were high school graduates.
Here at Anacapri apartment accommodation, we are already preparing for the influx of schoolies and some of the parents who will be enjoying the Gold Coast activities with them. Our Surfers Paradise apartments can provide you or your children a comfy and safe dwelling just a stone's throw away from the parties and other activities of Schoolies Week. The Anacapri 2 bedroom or 3 bedroom Surfers Paradise apartments are also just a short stroll away from the trendy night clubs and restaurants of Cavill Avenue.
Moreover, parents who just want to be near their kids during this exciting time can have a relaxing time with the first rate amenities in our sunny and spacious accommodation in Surfers Paradise. Just tell your son or daughter to call in on you everyday while you laze around for hours in our heated resort pool, wading pool, and spa. Your room key also provides access to a sauna so you can relax and lose worries over your kids. Just remember that Schoolies Week is more than just huge party for you to get worried about - it's a traditional rite of passage for every graduate who enters into adulthood.
Schoolies Week is a grand celebration for the next stage in life that you, more than anyone else, helped your children achieve.
For bookings at Anacapri Holiday Resort Apartments, please click here.