Posted in
Local Events
@
Aug 11th 2015 11:28am
- By Administrator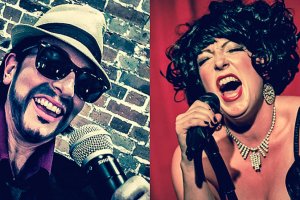 The Arts Centre Gold Coast and Glitter Festival 2015 present Larry Paradiseo and the Fabulous Dame Farrar.
One woman… two genders… one amazing double bill.
'Carita Farrer (Spencer) is brilliant.'
AUSTRALIAN STAGE
The Fabulous Dame Farrar is appalling, unpredictable, shameless…but you can't help but fall in love with this debaucherous diva. Carita Farrer Spencer brings together The Fabulous Dame Farrar and international sex symbol Larry Paradiseo in this hilarious world-class double act (with herself). Larry Paradiseo is a must see. Men want to be him. Women just want him. A night of seriously funny entertainment and exceptional music.
Catch the show on Thursday 1 Oct, 8.30pm at The Basement, The Arts Centre Gold Coast.
If you are planning to go to this event, you'll be glad to know that our Budget Apartments Surfers Paradise is just minutes away from The Arts Centre Gold Coast.
We have one bedroom, two bedroom and three bedroom apartments which can accommodate three guests, five guests and eight guests. The apartments all feature Foxtel and air conditioning. Enjoy a delightful stay at our apartments and make the most of your holiday.
The two bedroom townhouse is beautifully designed and complete with everything you will need. The townhouse features a fully equipped kitchen, laundry facilities, Foxtel, air conditioning, a bathroom, ensuite and more. Perfect for up to six guests, the two bedroom townhouse is perfect for families, friends and co-workers. Book our accommodation and have a wonderful Gold Coast holiday. Enjoy your stay at our Gold Coast Family Apartments.
Aside from our spacious apartments, we also have guest facilities. Our guest facilities include free WiFi, a pool and a spa, a tennis court, a gym, reception and a tour desk.
Be sure to watch the show on Thursday 1 October, 8.30pm at The Basement, The Arts Centre Gold Coast.
For booking information, please visit http://anacapri.etourism.net.au