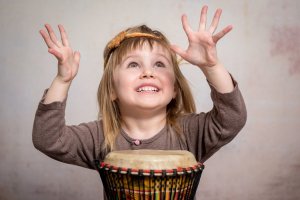 Coming up at Home of the Arts (HOTA) this Spring is the wildly popular "Kids Take Over" mini-festival in Surfers Paradise. Your kids will have a blast embracing their wild side and taking part in the multitude of exciting events and activities all designed to put them in the driver's seat. It's a world of creativity and adventure, and your family won't want to miss a moment!
African Beats
The best way to shake your wiggles out is to the beat of a drum in the sunshine! The whole family can get wild and burn off energy at the Lawn Bar at HOTA. Dance and drum in the traditional West African manner. Jump, bounce, spin, and sway. Grab a drum and express yourself your way. An hour of fun, rhythm, and culture, and you won't want it to end. Find out more about African Beats.
Wild Animal Encounter
Are you brave enough to come face to face with wild animals? Touch them, hold them, learn about how they live and what makes them unique. Fierce reptiles and more await and the family will enjoy soaking up every second of the wild animal encounter.
Wildling Wear
If you are truly wild at heart, what should you wear to express this? The answer is simple… wildling wear of course! Step into the fluoro forest and get those creative juices flowing as kids design their very own wild outfits inspired by the bush and all things nature. You'll all certainly look the part on your wild adventures!
Go Wild at the Movies
Sit back, chill out, and enjoy a movie or two at HOTA. "The Wild" is the story of a rambunctious young lion cub is accidentally taken from the Zoo and shipped to Africa, and the story of his father and his friends embracing their natural instincts in order to find him.
"Bridge to Terabithia" is a fantastic flick where two kids that don't quite fit in create their own land of imagination named Terabithia. Experience the magical characters and storytelling in this adventurous film.
Of course, when it comes to experiencing true wildness, you can't go past "Where the Wild Things Are." This classic story weaves the tale of Max who escapes his home where he feels misunderstood, and takes off on a hair raising adventure where he becomes the king of the charismatic creatures of a magical land far away.
Choose just one, or watch all of these wonderful children's movies this Spring at HOTA. Make the most of the fun with a stay at Anacapri this September or October and explore the best Gold Coast attractions for family fun and make memories to last a lifetime!