Posted in
Local Events
@
Jan 30th 2019 9:20am
- By Administrator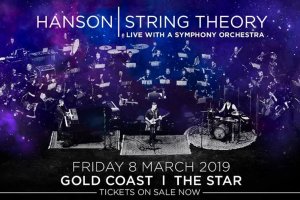 Grammy-nominated multi-platinum trio HANSON is starting the next 25 years with a musical project unlike any other in their history.

On the heels of a best-selling 25th Anniversary World Tour and Greatest Hits release, Hanson is set to break new ground.

String Theory brings together a remarkable collaboration with Academy Award-winning arranger David Campbell, leading to both a world tour showcasing the band playing live with Symphony Orchestras as well as a studio album.

The tour highlights song craftsmanship and lyrical beauty, framing the established trio's music through an exclusive partnership with Campbell.

Their debut album Middle Of Nowhere had a slew of Top 40 singles, followed by numerous radio hits, five studio albums, several Grammy nominations and recorded sales exceeding 16 million.

Over the past decades, Hanson has made an unmistakable imprint in music, beginning with their juggernaut rise off the back of the 1997 global hit 'MmmBop'.

String Theory features songs encompassing the band's entire career from 'MmmBop' to 'This Time Around' and more, plus brand new or never-released songs like 'Reaching For The Sky' and 'Siren Call'. It may be Hanson's most lofty musical project to date, Catch Hanson at The Star Gold Coast on March 8. Our Gold Coast Family Apartments are close to The Star Gold Coast.

We offer comfortable apartments. Our fully furnished one bedroom, two bedroom, and three bedroom apartments can be your home away from home. Each apartment has a balcony. Our apartments are all self-contained and fully furnished.

The apartments highlight a fully equipped kitchen and laundry facilities. Provide warm and delicious meals. Use our laundry facilities for your ease.

Our resort also has excellent facilities. We have a fully equipped gymnasium for fitness aficionados. There is also a full-sized tennis court where you can show off your tennis arm. Treat yourself to an invigorating swim in the pool. The kids can paddle around the wading pool and play.

For booking information, please go to https://www.anacapri.com.au/rooms.