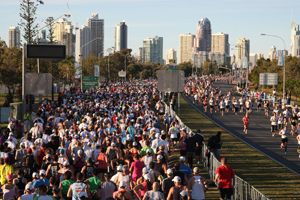 The Gold Coast Marathon is one of the biggest sporting events in the region and has been a part of the city's colourful history. As the marathon season draws near, the Gold Coast is now prepping for the influx of runners and spectators taking part on this momentous event. At Anacapri Apartments, we share the same excitement as we welcome guests and participants for this year's marathon.
Celebrating its 33rd year, the Gold Coast Airport Marathon began as a part of the health awareness campaign for the Gold Coast and took place in 2 September 1979 at the suburb of Evandale. The 1st ever Gold Coast Marathon consisted of six-lap loop course and only had 691 partcipants. Thirty years later, there were more than 23,000 local and international participants across all events. After three decades, the race continues to draw in numerous runners from all over the globe and for this year the Marathon is eyeing more than 25,000 participants.
With so many programs lined up, the Gold Coast Marathon is now scheduled as a two day event and will take place on 2-3 July 2011. Starting line will be at Southport Broadwater Parklands and will set out to a southern turnaround at Burleigh Heads. Gold Coast Marathon has five race programs which include a marathon, half marathon, 10km run, 5km run/walk, 4km junior dash and a 2km junior dash. This year, the Marathon will also incorporate a number of championships from several national and local marathon events such as Oceania Marathon and Half Marathon, Australian Defence Marathon, Queensland Marathon, Australian Masters Athletics Marathon, Queensland Masters Athletics Marathon, Australian Open Running Club Championships.
Participants staying at our Surfers Paradise apartments can also take part on several Off-the-track events such as the 2011 ASICS Sport and Leisure Expo which will be held over three days starting from 30 June at the Gold Coast Convention and Exhibition Centre conveniently located near our Gold Coast accommodation. You can also rub elbows with sport legends Rob de Castella, Steve Moneghetti, Lee Troop and Pat Carroll at the AirAsia X Legends Lunch taking place on 2 July 2011 also at the GCCEC.
For more information on how to enter the Gold Coast marathon, click here.
For bookings at Anacapri Holiday Resort Apartments, please click here.
Image Source: Flickr - http://www.flickr.com/photos/goldcoastairportmarathon/