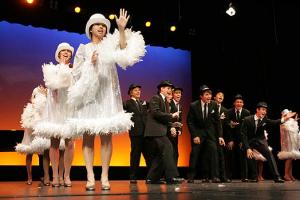 Think Glee meets the Gold Coast holiday. Then add more than 1000 dance troops and 300 bands, instrumental groups, and orchestras from all over Australia. You now have a good picture of the Gold Coast Eisteddfod.
We have been preparing in Anacapri Holiday Resort Apartments for the influx of guests, mostly Eisteddfod entrants and their families, to our 2 bedroom and 3 bedroom Surfers Paradise Apartments for the largest dance, music, speech and drama festival in Australia. It is always a delight to hear children playing cellos and violins, or teenagers rehearsing their dance moves in our self contained apartments in Surfers Paradise.
We have to thank the late Paul Sharratt for this showcase of talent and grace as he brought the Eisteddfod tradition to Australia. The word comes from the Welsh "eistedd," which means "to sit," and "bod" meaning "to be". The tradition dates back to 1176 when Welsh artists started "sitting together" for a festival of literature and music at the court of Rhys ap Gruffydd in Cardigan.
The Gold Coast Eisteddfod was first held in 1982. It now runs every August to September for over seven weeks and across three venues. From our apartments in Surfers Paradise, the festival is just a short drive away. The Gold Coast Arts Centre at Bundall, Surfers Paradise is the focal point of the event. The Albert Waterways at Mermaid Waters and the Robina Community Centre also host the competition. You can even take a morning swim in our family apartments to get a subtle tan before listening to young musical geniuses play pianoforte, the guitar, cello, and a number of wind and brass instruments. Or if you're into the sublime, you can enjoy the holiday, watching speech and drama competitions.
The highlight of the Gold Coast Eisteddfod is undoubtedly the seventh day - the eagerly awaited battle of the choirs. Residents and holiday makers in Surfers Paradise are lucky to have the opportunity to be awed by the breathtaking performances from colleges all over Australia. We have over the years seen routines out of Broadway, pop acts, and the youth and charm of the student chorales make ecstatic audiences rise to their feet for a standing ovation. The Aussie Eisteddfod is definitely an experience that will satisfy your senses, and inspire your spirit.
You are invited to take the next flight to the Gold Coast, and enjoy the Eisteddfod from our family apartments in Surfers Paradise. Please feel free to respond to this post or ask about Gold Coast Accommodation or other Gold Coast festivals in the comments section.
For bookings at Anacapri Holiday Resort Apartments, please call (07) 5592 0966 for the best price or click here.
Image Source: goldcoast.com.au
Somerset College - Photographer: Richard Gosling