Posted in
Local Events
@
Mar 22nd 2019 4:39pm
- By Administrator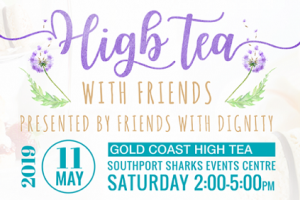 Don't miss these Gold Coast food events to be held this May.
Gold Coast Food and Wine Festival
The Gold Coast Food and Wine Festival promotes the growing regional food and wine culture. Sample a diverse array of food and wine as more than 15,000 come together to enjoy 30 culinary events across the Gold Coast. Celebrate exquisite wine and tasty dishes between May 31 to June 3.

This event marks the Gold Coast as a food destination. Taste the most exceptional food from restaurants, street food, wineries, breweries and more. Learn from industry experts through seminars and workshops related to food. There will also be demonstrations as well as unique food events. The festival will be held at 1 Town Centre Drive, Helensvale from May 31 to June 2.
High Tea with Friends
The yearly 'High Tea With Friends' is back. The event helps raise funds for Friends with Dignity. Enjoy delicious food and a fun environment where you can meet like-minded individuals. FWD National Ambassador Rosie Batty will be the keynote speaker. She will interact with guests and sign copies of her bestselling book. Proceeds from the sale of her book "A Mother's Story" will go to the charity.

A ticket for the event includes a glass of champagne, entertainment, raffles, and more. Friends with Dignity helps people who have suffered from domestic and family violence. The programs provide concrete ways to helps survivors of abuse. The group aims to provide safe spaces for people who have escaped domestic violence.

Don't miss this worthwhile event happening at Southport Sharks on May 11.

Our Gold Coast Family Apartments are

We offer a great selection of apartments. Our apartments have kitchen and laundry facilities. There's also a balcony which provides a breeze and great views.

To learn more, go to https://www.anacapri.com.au/rooms.