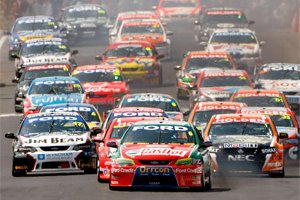 An absolute thrill ride for the entire family is on its way to Surfers Paradise on the Gold Coast, and Anacapri Holiday Resorts Apartments is raring to enjoy the ride.
The 2010 Armor All Gold Coast 600 will mark its 20th anniversary on the Gold Coast Street Circuit. Formerly known as the Gold Coast Indy, the race is one of the most anticipated events of the year. Guests are expected to flock to our 2 and 3 bedroom Surfers Paradise apartments to watch racers like Queensland native Will Power compete for the win.
Will, the son of open wheel racer Bob Power, is once again the local favorite. He started professional racing with a Datsun 1200 in Queensland 11 years go. In 2006, Will scored the first pole position of his career in the Champ Cars race in Surfers Paradise. The home crowd went into an uproar when the speedster from Toowoomba claimed the pole, but contact in the pit lane caused him to fall back and eventually finish 12th.
Aside from its new look and more efficient concrete-lined, high-octane thrill ride, the 2010 Gold Coast 600 will incorporate a family-friendly festival complete with off-track entertain for everyone. True to their Rock'n'Race concept, this year's event will fuse top-notch motor sports with world-class off-track entertainment. Massive live performances from musicians like Ian Carey, the Potbelleez, Richard Clapton, and the Beach Boys will blaze the stage as you rock hard through the sundown. Organizers have set-up a special Family Zone wherein kids of all ages can enjoy a variety of children-friendly free entertainment and activities.
So if you're looking for a holiday of thrills, merriment, and great music, our Gold Coast accommodation is merely a stone's throw away from the Gold Coast 600. It is also a great idea to swing by the night clubs near our self contained apartments in Surfers Paradise as you'll meet a lot of interesting people partying here during Gold Coast 600.
For bookings at Anacapri Holiday Resort Apartments, please click here.
Image Source: sportsworld-pacific.com.au