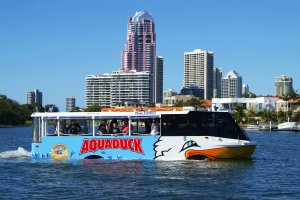 If you've ever come to visit the Gold Coast before and stayed in Surfers Paradise, it would be incredibly surprising if you'd never spotted the Aquaduck making its way through the streets. It's certainly hard to miss! The giant amphibious tour bus shaped like a duck is as eye catching as the experience of being on an Aquaduck tour is exciting.
So what makes it worth booking in, apart from the novelty of cruising through Surfers in a duck shaped bus? We're glad you asked.
City Tour
Departing from Caville Avenue, from the second you climb aboard the Aquaduck you're in for a treat. Take a tour of the city of Surfers Paradise with live commentary as you learn about the history of the city and all the local attractions and landmarks. It's a fantastic way to get familiar with your holiday destination and add some incredible attractions to your holiday itinerary.
See if you can catch sight of any celebrities dining in the strip of cafes and restaurants along Tedder Avenue in Main Beach. Soak up the views of the sparkling Pacific Ocean and get to know your way around the coastline as you head up to the Broadwater. You'll love the sights of the Southport Yacht Club, Palazzo Versace, Seaworld, and Marina Mirage.
River Cruise
Simply sit back and relax as the Aquaduck effortlessly transitions onto the water, and then cruise around the Gold Coast waterways taking in the sights of the multimillion dollar waterfront mansions, see if you can spot any dolphins or other marine wildlife, and check out the local watersports. Jetski cruises, fishing, scuba diving and snorkelling are all favourite activities on the Broadwater.
Kids in the Driver's Seat
Families will just love the Aquaduck tours, because they get to slip into the driver's seat and take the wheel! They even get to head home from their adventures with their very own Aquaduck Captains Certificate. Because of the unique design of the vehicle, families can get up and safely move about as you explore the Broadwater.
After a big day taking in all of the sights and sounds in the heart of the Gold Coast, you'll love coming back to our holiday resort apartments. With a heated pool and spa, full sized tennis court, and just a short stroll to the Surfers Paradise beach our holiday apartments are the ideal spot for a comfortable family stay.
Check out our 1, 2, and 3 bedroom apartments here.