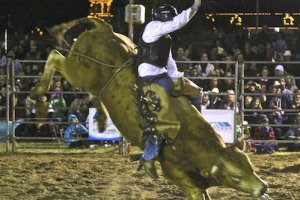 Rodeo shows and competition has become one of the most highly anticipated and well received sporting events in the nation as it presents a lot of excitement and entertainment not just to the audiences but also to participants and competitors as well. This coming 23 July 2011, you can expect another spectacular rodeo event coming your way at the Gold Coast. Our fun-loving staffs at the Surfers Paradise apartments at Anacapri Holiday Apartments encourage you to experience the exhilarating rodeo feats and delightful amusements at Bulls on the Beach 2011.
Happening on 23 July 2011 at the Sea World Carpark in Main Beach, Bull on the Beach will feature traditional country rodeo show that includes the very popular bullriding and bareback bucking competitions. To top it all off, this huge rodeo show will add in several fun family amusements as well as lively musical performances.
Guests from family apartments in Surfers Paradise will get to witness some of the nation's top courageous and brave bronc and bull riders as they compete for the prestigious National Rodeo of Australia Championships. In order to win the bullriding competition, riders should to stay on top of a ferocious bull for at least eight seconds. On the other hand, bareback bucking will be judged based on their style and spurring techniques. In between each events, Woolly Bully the mechanical bull and a gang of funny clowns will provide audiences with some comical antics.
There's always something for the whole family. Apart from the competitions, families from our accommodation in Surfers Paradise can also enjoy a number of exciting activities for both kids and adults. The children will certainly enjoy their time at the jumping castles. Parents and other adults can try their hand at the mechanical bull. Stockman's Bar will provide audiences with snack, country barbeques and burgers. Moreover, Fifi and the Howlers will render a lively set as you party and dance to their own brand of Rock'n'Roll, classic and country music.
For bookings at Anacapri Holiday Resort Apartments, please click here.
Image Source: Bulls on the Beach - www.bullsonthebeach.com